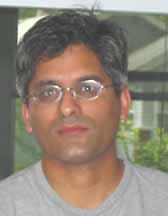 Amitabh Lath
Professor
Rutgers University
Dept. of Physics and Astronomy
Serin Labs #324
136 Frelinghuysen Road
Piscataway, NJ 08854

Phone: 848-445-8971 (office)

Electronic addresses:
Email: amitl -at- fnal.gov
Email: lath -at- physics.rutgers.edu
Email: Amitabh.Lath -at- cern.ch
Research:
I am interested in High Energy physics, also known as Particle physics. This is the study of the smallest objects in nature. Our current understanding of the fundamental constituents of matter is that everything is made of quarks and leptons and held together by various forces that act on them such as the electromagnetic and nuclear forces (no gravity at these scales, not yet).

Scroll down to see a link to a talk I gave at a local high school on particle physics.

The experiments in this field can be quite large, thousands of people collaborate on building and running a single experiment.


I am currently working at the Compact Muon Solenoid (CMS) experiment at the Large Hadron Collider (LHC) at CERN .

Previously I worked on the CDF collider experiment at Fermilab (Fermi National Accelerator Laboratory).

Some of the analyses I have worked on over the years are explained briefly in this directory:
Selected Papers .


Click icon for a synopsis of the physics I have worked on.

See photos of CDF's SVX-II / ISL Burnin System:
History
Professor at Rutgers University in the Department of Physics and Astronomy, specializing in Experimental High Energy Physics .
Previously worked on KTeV experiment with Prof. Sunil V. Somalwar.

As a graduate student I worked at SLAC (Stanford Linear Accelerator Center) on the SLD experiment, especially on the Compton Polarimeter , which is instrumental in measuring the Left-Right Asymmetry of Z0 boson production (ALR, PhD. thesis). ALR is the single best constraint on the Weak Mixing Angle, which along with other measured parameters such as masses of the W and Z bosons and the top quark, constrains the mass of the recently discovered Higgs Boson -- responsible for the Electro-weak symmetry breaking that makes the W and Z heavy and the photon massless.
My work at SLAC was done while a graduate student at MIT (Massachusetts Institute of Technology) at the LNS (Lab for Nuclear Science) . My thesis adviser was Henry W. Kendall, (mugshot) Julius A. Stratton Professor of Physics, who shared the 1990 Nobel Prize in Physics for discovering parton level substructure of protons and neutrons (partons = quarks). He was also founder and chairman of the Union of Concerned Scientists.
As an undergraduate (also at MIT) I got an SB from the MIT Physics Department while living at La Maison Francaise (French House) .

Slides from talks I've given
Colloquim at Oklahoma on LHC Physics

Colloquim at Rutgers on our LHC Work.

Seminar at Columbia on Multijet Physics (similar ones at UPenn)

The Rutgers Society of Physics Students (SPS) invites talks on research. I presented one on Experimental Particle Physics in March 2011 .

A talk I gave at Piscataway High School in March 2002 on particle physics can be seen in powerpoint or in pdf or postscript formats.

Another talk at Piscataway High School, in April 2003 Energy use in powerpoint or in pdf formats.

I gave a similar talk on Energy use at a local Rotary club in July 2005: in powerpoint

A talk I gave to the National Science Foundation can be seen in powerpoint or in pdf format. The digital part of the slides, anyway.

A talk given to entering graduate students is here in powerpoint or in pdf format.

Seminar on CDF Silicon in powerpoint or in pdf format.

CDF talk to science teachers (Quarknet) in powerpoint or in pdf format.

Colloquim at Rutgers on MSSM Higgs to tau pairs
Other Relevant Links
Other Non-Relevant Links
---