Wireless network access in the Rutgers Physics Department
Introduction
Wireless access is available throughout most of the Physics Department using the Physics LAWN wireless access system.
To use this system, your web browser must have javascript enabled and accept cookies.
Some security considerations
The password and username that you enter during the authentication step described below are encrypted before leaving your PC using SSL.
Please keep in mind that after the authentication step is complete information sent from your PC is not encrypted and can in principle be intercepted by malicious parties with the appropriate radio equipment. Before sending sensitive information like passwords or credit card numbers, please be certain that the application you are running provides encryption for that information. All access to this service is logged. All network connections made using this service are logged. All use of this service must conform to Rutgers policy regarding acceptable use for Computing and Information Technology Resources, as outlined
here
.
Getting a connection
The wireless access points in the Physics Department use the SSID "Physics-LAWN". Your PC should allow you to see a list of all nearby access points. Select the one with SSID "Physics-LAWN" that shows the strongest signal. If you do not see any access points with this SSID, please contact
wireless@physics.rutgers.edu
and let us know where you are located.
Authenticating yourself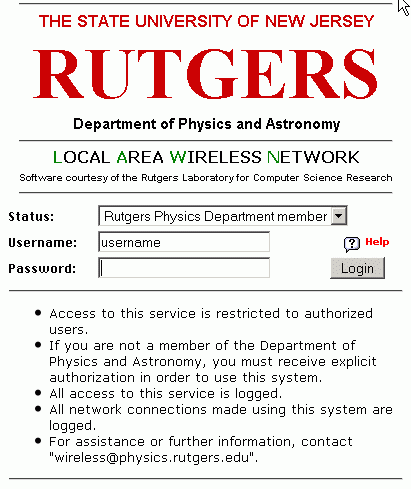 Once you have a connection to one of our access points, start a web browser on your PC and direct it to any site. Our wireless system will automatically redirect you to a login screen, as shown to the right. (If this does not happen, explicitly enter the URL http://physics-login.rutgers.edu.)
The are several options for authenticating yourself, selectable from the pull down menu on the "Status:" line. Select the one that applies to you, and enter authentication information as follows:
Authorized Rutgers NetID

This option uses the Rutgers NetID and password for authentication and is available to all members of the Department of Physics as well as undergraduates in some courses.

Registered visitors

Select this option if an individual username/password has been created for you. To arrange for the creation of a username/password, please contact wireless@physics.rutgers.edu.

Fermilab and CERN Kerberos

Select one of these if you are a visitor with a Kerberos account at Fermilab or CERN. Enter your Kerberos username and password. (Do not include "@FNAL.GOV" or "@CERN.CH" with the username.)

Other registered email servers

Select this option if you are a visitor and the mail server at your home instituion has been registered with us. Enter your full email address as used by that server, and the password you use to access your mail on that server.
Register your MAC address to bypass authentication
If you frequently use the same device to access the Physics-LAWN system, you can avoid having to go through the authentication process each time by registering the MAC address of the device. Click here to do this. Note that this feature is available only to members of the Department of Physics and Astronomy.
Acknowledgment
The software used by this system was written by the Rutgers Laboratory for Compter Science Research and has been provided by them.
---
Please send any comments on this page to
wireless@physics.rutgers.edu
Last modified: Thursday, October 15, 2009
Find more about:
Jump to: