Richard J. Plano Dissertation Prize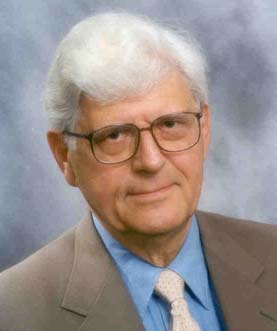 The Richard J. Plano Dissertation Prize is given annually to a PhD graduate who, in the judgment of the physics graduate faculty, wrote the best PhD dissertation in the past year. The prize, which includes a cash award, was established by an anonymous donor in honor of Richard J. Plano, who was a professor of physics at Rutgers until his retirement in 1999. The prizewinner is announced at the annual Departmental Awards Banquet in April.
Richard J. Plano (1929-2012)
Biographical sketch contributed by Mohan Kalelkar
Richard J. Plano was born on April 15, 1929 in Merrill, Wisconsin. He won a competitive all-tuition Pepsi-Cola Scholarship, which made it possible for him to attend the University of Chicago, where he received the AB Degree in 1949, the BS in 1951, MS in 1953 and his Ph.D. in 1956. He helped develop the first liquid hydrogen bubble chamber, which he then used for his thesis research into pion-proton scattering.
He joined the faculty of Columbia University, New York, NY in January, 1956 as an instructor and was promoted to assistant professor in 1958. While there he participated in bubble chamber experiments at Nevis Laboratory and Brookhaven National Laboratory which determined the parity of the neutral pion and the spin of the lambda hyperon, revealed the properties of the then mysterious neutral kaon, and produced numerous other results which formed the basis of the now commonly accepted "Standard Model".
In 1960 he joined the Physics Department at Rutgers as an associate professor and quickly founded a strong program in high-energy experimental physics, starting with an advanced facility to analyze bubble chamber photographs. In 1963 he was promoted to full professor and in 1985 to Professor II. His research was supported by the National Science Foundation, which increased his annual support each year for 35 years to a maximum of $315,000.
The NSF support included funding for an automatic device (called PEPR) for scanning and measuring bubble chamber photographs semi-automatically under computer control. An outgrowth of this effort was one of the first powerful time-sharing computer systems, which controlled PEPR, analyzed the resulting data, and was made available to the entire faculty, staff, and graduate student body starting in 1965. This pioneering computing effort gave the department impressive computing power at an early stage in the development of computers. His research using this equipment produced many results of major importance concerning the strong interactions as well as neutrino interactions. Starting in 1985, his major interest turned to electron accelerators and he made major contributions to the SLD detector at Stanford University. During his career, he used the high energy accelerators at the University of Chicago, Nevis Laboratory, Brookhaven National Laboratory, Fermilab, CERN, and Stanford University. More than 200 refereed publications have resulted from these investigations.
He enjoyed teaching at all levels. His major teaching efforts were at the elementary level and in mentoring graduate students; thirteen received the Ph.D. degree under his guidance.
Richard Plano passed away January 8, 2012, following a long illness.
Winners of the Richard J. Plano Dissertation Prize
2022: Xianghan Xu
Advisor: Sang-Wook Cheong
Dissertation Title: Unconventional Ferroelectricity, Quantum Magnetism, and Multiferroicity of Single-Crystalline Quantum Materials


2021: Long Yan Aaron Yung
Advisor: Rachel Somerville
Dissertation Title: Semi-Analytic Forecasts for Galaxy Formation and Cosmic Reionization in the Ultrahigh-Redshift Universe


2020: Humna Awan
Advisor: Eric Gawiser
Dissertation Title: Probing Dark Energy with Large Galaxy Surveys: Systematics & Mitigation


2019: Wenbo Wang
Advisor: Weida Wu
Dissertation Title: Topological Phenomena in Magnetic Thin Films


2018: Hsiang-Hsi Kung
Advisor: Girsh Blumberg
Dissertation Title: Collective Excitations in the Antisymmetric Channel of Raman Spectroscopy


2017: Meng Ye
Advisor: David Vanderbilt
Dissertation Title: First Principle Study of Magnetoelectric Effects and Ferroelectricity in Complex Oxides


2016: Xueyun Wang
Advisor: Sang-Wook Cheong
Dissertation Title: Topological Structural Vortices in Multiferroic Hexagonal Manganites


2015: Matthew Brahlek
Advisor: Sean Oh
Dissertation Title: Atomic Scale Engineering of Topological Materials


2014: Claudia Seitz
Advisor: Eva Halkiadakis
Dissertation Title: Searches for Light- and Heavy-Flavor Three-Jet Resonances in Proton-Proton Collisions with the CMS Detector at √ S = 8 TeV


2013: Adina Luican-Mayer
Advisor: Eva Andrei
Dissertation Title: Scanning Tunneling Microscopy and Spectroscopy Studies of Graphene


2012: Sinisa Coh
Advisor: David Vanderbilt
Dissertation Title: Electronic structure theory: Applications and geometrical aspects


2011: Rebecca A. Flint
Advisor: Piers Coleman
Dissertation Title: Symplectic-N in strongly correlated materials


2010: Timothy W. Koeth
Advisor: Steve Schnetzer
Dissertation Title: An Observation of a Transverse to Longitudinal Emittance Exchange at the Fermilab A0 Photoinjector



| | |
| --- | --- |
| | Tim Koeth receiving the Plano Dissertation Prize at the Departmental Awards Banquet in April 2010, with Professors Ron Ransome (l) and Steve Schnetzer (r) |



2009: Sourabh Dube
Advisor: Sunil Somalwar
Dissertation Title: Search for Supersymmetry at the Tevatron using the Trilepton signature


2008: Elena Loginova
Advisor: Theodore Madey
Dissertation Title: Two topics in surface science: Morphological changes of NiAl(111) induced by oxygen; Secondary electron yield studies of Ru and TiO2 surfaces related to extreme ultraviolet lithography


2007: Craig Fennie
Advisor:Karin Rabe
Dissertation Title: Understanding the Interplay of Lattice and Magnetic Degrees of Freedom in Structually Complex Insulators from First Principles


2006: Juntai Shen
Advisor:Jerry Sellwood
Dissertation Title: Dynamical Studies of Two Common Features in Spiral Galaxies: Bars and Warps


2005: Namjung Hur
Adviser: Sang-Wook Cheong
Dissertation Title: Magnetoelectric and Magnetodielectric effects in Multiferroic Manganites


2004: Cara Rakowski
Adviser: Jack Hughes
Dissertation Title: X-ray Studies of Supernova Remnants

| | |
| --- | --- |
| | Cara Rakowski receiving the Plano Dissertation Prize at the Departmental Awards Banquet in April 2004. |



2003: Vitaly Podzorov
Adviser: Michael Gershenson
Dissertation Title: Influence of the Phase Separation on the Transport Properties of the Charge Ordered Colossal Magnetoresistance Manganites


2002: Lubos Motl
Adviser: Thomas Banks
Dissertation Title: Nonperturbative Formulations of Superstring Theory

| | |
| --- | --- |
| | Prizewinner Lubos Motl (right) receiving the award from Graduate Program Director Prof. Jolie Cizewski (left) at the April, 2002, Departmental Awards Banquet. |



2001: Panayotis Kevrekidis
Advisers: Joel Lebowitz (Physics and Astronomy) and Panos Georgopoulos (EOHSI)
Dissertation Title: Lattice Dynamics of Solitary Wave Excitations

| | |
| --- | --- |
| | Prizewinner Panayotis Kevrekidis (left) and Prof. Richard Plano (right) at the Departmental Awards Banquet in April, 2001. |



---

This page is maintained by Prof. Ronald Gilman. Last updated May 5, 2022.