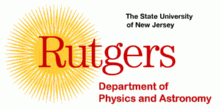 Home page of


Mohan Kalelkar
Directory information
&nbsp Position:
Professor
&nbsp Research groups:
High Energy Experiment
Instructional Support and Development
&nbsp Email address:
kalelkar@physics.rutgers.edu
&nbsp Telephone:
(848) 445-8872
(732) 445-4343 (fax)
&nbsp Office:
Room 301, Physics Building, Busch Campus
&nbsp Mailing address:
Mohan Kalelkar
Department of Physics and Astronomy
Rutgers, The State University of New Jersey
136 Frelinghuysen Road
Piscataway, NJ 08854-8019 USA

Education
| | | |
| --- | --- | --- |
| B.A. | Harvard College | 1968 |
| M.A. | Columbia University | 1970 |
| Ph.D. | Columbia University | 1974 |
Awards
Warren I. Susman Award for Excellence in Teaching, Rutgers University, April 2006. This is the university's highest award for teaching excellence.
Award for Distinguished Contributions to Undergraduate Education, Faculty of Arts and Sciences, Rutgers University, May 1994
Outstanding Teacher Award, Society of Physics Students, Rutgers University, April 1994
Awards Created
In 2013 I established the Mohan S. Kalelkar Award for Outstanding Academic Excellence by women physics majors.
Research
I worked on experiments in Elementary-Particle Physics. My last experiment was at the Stanford Linear Accelerator Center (SLAC) to make precision tests of the Standard Model by studying the interactions of high-energy polarized electrons with antielectrons. Our apparatus is called the Stanford Large Detector (SLD) which weighs 4000 tons and is 6 stories high! Hundreds of physicists from 33 institutions around the world collaborated on this experiment. It was a classic example of Big Science. Here are two attractive pictures, one of a 3-jet event and the other of a rare 4-jet event.
Refereed Publications
Here is a list of my publications in refereed journals .
---
This page has been visited
times since January 1, 1996.
Last updated: 19-Apr-2016 by Mohan Kalelkar
kalelkar@physics.rutgers.edu