01:750:109:01
Physics 109: Astronomy and Cosmology: The Solar System
Fall 2018 - Section 1
Instructor
Professor Andrew Baker
Serin W309 (Busch Campus)
Phone: 848-445-8887
Email: ajbaker[at]physics.rutgers.edu


Undergraduate learning assistants
Ms. Shahira Halim & Ms. Minna Kim

Course meetings
Wednesday, period 3 (11:30-12:50) in Scott Hall 123
Friday, period 4 (1:10-2:30) in Scott Hall 123


Office hours
Monday, 1:40-3:00 in Serin W309
Friday, 2:50-4:10 in Scott Hall 201
Some evening availability in the chat room of the virtual classroom set up on Sakai.
Course description
This course describes the foundations of astronomy and modern knowledge of our Solar System as well as planets around other stars. While astronomers know a tremendous amount about the universe, science is not just about a static set of facts, but also about the dynamic process of discovery. We will therefore consider science as a way of understanding the world we live in.
There are no college-level prerequisites for this course, but typical high school algebra and science preparation are assumed. The companion course, PHY 110, covers stars, galaxies, and the universe as a whole. The two courses are complementary and independent; you can take one or both, and in either order. Note that PHY 109 and PHY 110 are intended for non-science majors. Students with college-level math and science credits should consider taking PHY 341/342 instead. Those courses cover much of the same material as PHY 109/110, but at a more advanced level.
Textbook
The primary textbook for this course is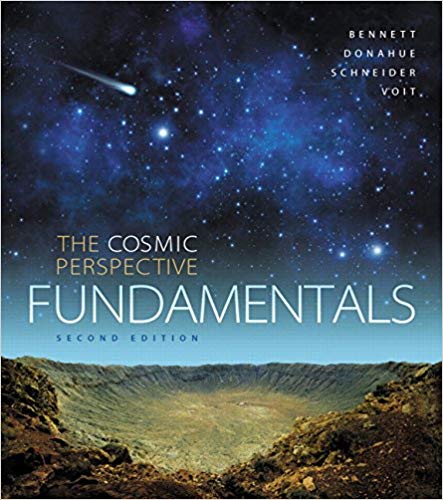 The Cosmic Perspective: Fundamentals (second edition), by Bennett, Donahue, Schneider, & Voit (ISBN 0133889564), published by Addison-Wesley/Pearson. While this book is self-contained, I will supplement it from time to time with additional material in the slides for my lectures. You will be responsible for material that appears in our book, and any clearly designated additional material in my slides, which I will make available after class in Sakai.
Student response system
In addition to the textbook, you are required to purchase an i>clicker+ "student response system" (these require two AAA batteries and are available at the campus bookstore). Each i>clicker+ unit has its own unique number; once you have purchased yours, please log into Sakai and register it using the i>clicker tab in the lower left corner of the page for this course. Note: clickers from other vendors that are sometimes used in other Rutgers classes will not work for this class.
Schedule
The sequence of lectures and homework due dates is provisional; I will update them as needed during the course of the semester. I will also include in the schedule the dates of any public events that are relevant to the subject matter of this course (attendance at these events is strictly optional). Note that "T#" in the table below refers to the "Tools of Science" box in Chapter # of the textbook.
CLASS
DATE
TOPIC
READING
DUE
1
Sep 5
Overview; Our Cosmic Address
no clicker questions
1.1, T11
2
Sep 7
An Insider's View of Science
3.2, 3.3, T1, T2, Appendix C
3
Sep 12
Understanding the Sky
2.1
4
Sep 14
Learning from the Sun and Moon
2.2
HW1
5
Sep 19
Greek and Renaissance Astronomy
2.3, 3.1
6
Sep 21
Kepler's Laws of Planetary Motion
3.1 (Kepler)
HW2
7
Sep 26
Newton's Laws of Motion
3.1 (Newton), 3.3, T6
8
Sep 28
Gravity in Action
3.3, T6
HW3
9
Oct 3
Light and Heat
T5
10
Oct 5
Light and Atoms
T7, T8, T9
HW4
11
Oct 10
Energy, Density, and Pressure
T4
12
Oct 12
REVIEW
no clicker questions
HW5
13
Oct 17
MIDTERM EXAM (in class)
no clicker questions
14
Oct 19
Scale and Content of the Solar System
1.3, 4.1
15
Oct 24
Age of the Solar System
4.3
16
Oct 26
Formation of the Solar System
4.2
HW6
17
Oct 31
Geology of the Earth and Moon
5.1
18
Nov 2
Terrestrial Planets: Geology
5.2
HW7
19
Nov 7
Terrestrial Planets: Atmospheres
5.1, 5.2, 5.3
20
Nov 9
Jovian Planets
6.1
HW8
21
Nov 14
Io, Europa, and Ganymede
6.1, 15.1, T15
22
Nov 16
Titan and Enceladus
Guest instructor: Professor Tad Pryor
6.1, 15.1, T15
HW9
23
Nov 21
Planetary Rings
Friday class schedule; clicker questions count double
6.1
24
Nov 28
Pluto and the Kuiper Belt
6.2
25
Nov 30
Comets and Asteroids
6.3
HW10
26
Dec 5
Finding Exoplanets
7.1
27
Dec 7
Characterizing Exoplanets
7.2, 7.3, 15.2
HW11
28
Dec 12
REVIEW
no clicker questions
Dec 18
FINAL EXAM
8:00-11:00am; Scott Hall 123
Grading
Your course grade will be based on a weighted combination of four elements:
weekly online homework (10%)
in-class clicker questions (25%)
mid-term exam (30%)
final exam (35%)
The starting thresholds for earning final grades of A, B, C, and D are 90, 80, 70, and 60%, respectively. It is possible that I will lower one or more of these thresholds over the course of the semester, making it easier for you to earn a particular letter grade. The thresholds will never be raised.

Homework will be assigned in Sakai on a roughly weekly basis, and will be due before the start of class on Friday. Assignments will consist of 10 multiple choice questions that assess your understanding of material covered by the previous week's lectures and assigned reading. Solutions will be posted after class on Friday. I will drop your one lowest homework score in computing your semester average.

Multiple-choice clicker questions will be scattered throughout most lectures, and are intended to assess your understanding of the material we are discussing in that class. If a clear majority of the class does not get the right answer to a particular question the first time around, I'll give you a chance to re-vote after discussing it with your neighbors. Your score for an individual question will be determined as follows:
3 points = correct answer the first time around
2 points = correct answer, but not the first time around
1 point = incorrect answer
All scores for a given day will be combined to determine your daily average. All days will be weighted the same, except for November 21st (the day before Thanksgiving), which will count double. I will drop your two lowest daily clicker scores in computing your semester average.

The midterm exam will comprise 30 multiple-choice questions covering the material from lectures 2-11. To give you a sense of what sorts of questions to expect, I will provide a sample midterm exam ahead of time, which we will review during the last regular class period before the exam; note that some of the questions will require that you apply what you have learned in new contexts. A makeup exam will be scheduled for students who have excused absences (see below) on the day of the midterm exam.

The final exam will comprise 45 multiple-choice questions over the material covered in lectures 14-27. A few questions may rely on material from the first half of the course (e.g., it is probably best not to have forgotten how scientific progress occurs by the time you sit down to take the final exam!), but these will be limited in number. To give you a sense of what sorts of questions to expect, I will provide a sample final exam ahead of time, which we will review during the last regular class period of the semester; as for the midterm exam, some of the questions will require that you apply what you have learned in new contexts. A makeup exam will be scheduled for students who have excused absences (see below) on the day of the final exam.

Extra credit


There will be only one way to earn extra credit in this course. As described above, a perfect homework score for the semester would be a total of 100 points — 10 points per homework, times 10 homeworks (after dropping the lowest of 11 scores). You can add up to 26 points of extra credit to your final homework score by attending and actively engaging at my office hours, or one of four weekly tutoring sessions that are led by our two outstanding undergraduate tutors. If you show up at an office hour or a tutoring session (please be sure to sign in!), you will get an extra +1 point, and if you participate actively (ask and answer questions, draw a diagram of an astronomical phenomenon like a lunar phase or a solar eclipse, etc.), then you will get a total of +2 points. You can gain points in this way once per week, up to 13 times over the course of the semester. This policy gives you the opportunity to add as much as 2.6 points to your final semester grade, but more importantly, it will give you a huge advantage in preparing for clicker questions and the two exams.
| TUTOR | DAY | TIME | CAMPUS | ROOM |
| --- | --- | --- | --- | --- |
| Shahira Halim | Sunday | 5:00-7:00pm | College Avenue | Academic Building West 1125 |
| office hour | Monday | 1:40-3:00pm | Busch | Serin W309 |
| Shahira Halim | Monday | 5:30-7:30pm | College Avenue | Academic Building West 1125 |
| Minna Kim | Tuesday | 6:30-10:00pm | Busch | SERC 106 |
| Minna Kim | Thursday | 6:30-10:00pm | Busch | SERC 106 |
| office hour | Friday | 2:50-4:10pm | College Avenue | Scott 201 |
Academic integrity
I take academic integrity concerns very seriously, and in the case of a possible violation I will initiate a disciplinary process without hesitation. Please familiarize yourself with the different types of violations and levels of sanctions, and note that more than one "non-separable" violation can lead to suspension or expulsion. A few relevant points of information for this course:
You may discuss homework questions with your classmates, but the final answers you enter should be your own.
You may discuss clicker questions with your classmates only when invited to do so. You should not use another student's clicker to respond to questions, or allow your clicker to be used by another student to respond to questions.
The midterm and final exams are closed-book, closed-note, closed-computer, and closed-phone; you should not consult anyone else while taking them.
For the midterm and final exams, you must know your RUID and bring photo ID. Students lacking appropriate identification may not be allowed to take the exam.
Only those people who are unable to attend the midterm or final exam because of a class conflict, a medical/family emergency, or another serious and unforeseen event will be allowed to take the relevant makeup exam. Documentation will be required.
Other items
Absences
If you miss a class, unless I have given prior permission or it is a medical/family emergency, you will receive a zero for that day's clicker questions. All absences should be reported at this website.
Auditors
Students not enrolled for credit are welcome to attend the lectures. If you are auditing the course, please be considerate of your peers who are officially enrolled and will be graded in part on their responses to clicker questions during lecture.
Students with disabilities
If you have a disability, please let me know early in the semester so that we can make the necessary arrangements for you to have a successful learning experience. Please consult this web page for more details.
Student wellness services
The School of Arts and Sciences and the Rutgers University Student Assembly have requested that all course syllabi include the following information on resources to support student wellness:

The Just In Case Web App provides access to helpful mental health information and resources for yourself or a friend in a mental health crisis on your smartphone or tablet, and easily contacts CAPS or RUPD.
Rutgers Counseling, ADAP & Psychiatric Services (CAPS) (848-932-7884; 17 Senior Street in New Brunswick) is a University mental health support service that includes counseling, alcohol and other drug assistance, and psychiatric services staffed by a team of professionals within Rutgers Health Services to support students' efforts to succeed at Rutgers University. CAPS offers a variety of services that include individual therapy, group therapy and workshops, crisis intervention, referral to specialists in the community and consultation, and collaboration with campus partners.
The Office for Violence Prevention & Victim Assistance (VPVA) (848-932-1181; 3 Bartlett Street in New Brunswick) provides confidential crisis intervention, counseling, and advocacy for victims of sexual and relationship violence and stalking to students, staff, and faculty. Staff can be reached by phone during office hours when the university; advocates can be reached by phone after hours.
The Office of Disability Services (848-445-6800; Lucy Stone Hall, Suite A145, Livingston Campus, 54 Joyce Kilmer Avenue in Piscataway) works with students with documented disabilities to determine eligibility for reasonable accommodations, facilitates and coordinates those accommodations when applicable, and lastly engages with the Rutgers community at large to provide and connect students to appropriate resources.
Scarlet Listeners (732-247-5555) is a free and confidential peer counseling and referral hotline, providing a comforting and supportive safe space.
Last updated November 26, 2018.