Backing up Personal PCs to a USB Device Using Windows 7 Backup



First, attach the desired USB device to your local PC.
It will appear much like this, where (F:) is the USB device:


---

Then start Windows 7 Backup via Ctrl Panel > Backup and Restore.
From this screen, click on "Set up Backup" on the far right as shown below.


---

Select the USB Device (F:) as the desired backup device and click Next.


---

From the next window, select "Let me choose" and click Next to select
what you want backed up.


---

Select the files and directories you want backed up and click Next.
Below is an example.


---

Review your backup settings and click "Save settings and run backup".



---

At this point your backup will start. You will see a status bar showing progress.


---

When the backup completes, status will be displayed as below.


---

To schedule a backup, click on "Change settings" below "Schedule".


---

Complete the procedure by setting up your backup schedule via the options below and clicl "OK".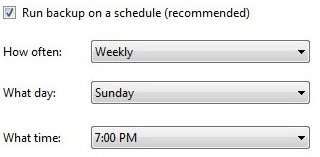 ---



Please send any comments on this page to Richard Vaughn.